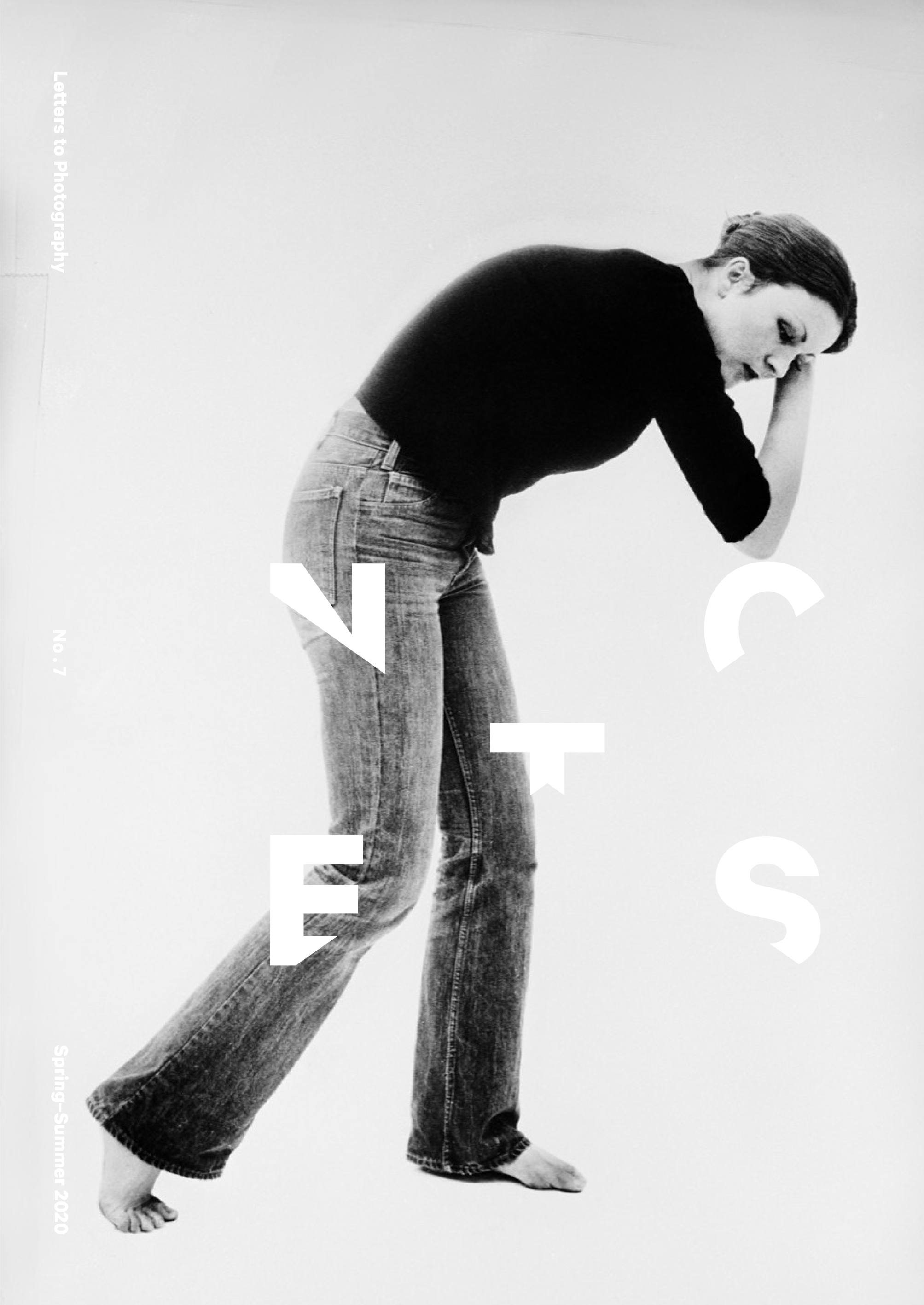 Notes: Letters to Photography / No. 7 / Spring-Summer 2020
Dear reader,
Thanks for picking up this copy of NOTES. A recurring conversation during our meetings has regarded the condition of photography concerned with identity and as such the performativity of the medium in the Scottish context. When we started developing our thoughts into a thematic concept for this issue we initially looked at performance from a broader perspective. But the more time we spent with the work and speaking to contributors, the more it transpired that our enquiry centres around the politics of the body itself. How artists render its physical relationships to the surroundings – private or public – and always in a sense political. The result is a voyage of bodily resistance, rights, and memories: what expectations such work holds and how it may be used for exploration, subversion, rituals, intimacy, taboos and excess.
The opening image by Elina Brotherus shows the artist herself, closely pressed against sculptor Erwin Wurm, while performing one if his One Minute Sculptures for the camera. Our attention is drawn to the objects stuck between the two static bodies and we cannot help ourselves but imagine the connection and tremor felt with each breath. Joel Dixon's series "mutely and hidden from others reaching myself" creates a similar form of suspense in his gentle and intimate nude portraits with men of different ages, whom he met on the gay, trans, bi and queer platform Grindr. In her work Body Configurations Austrian artist Valie Export examines the female body in the public space. Its visibility and limitations are explored by Mayane Soret in the essay Body Configuration and the Narrow Space. Challenging invisibility also comes to mind in Sekai Machache's studio work Invocation. Lightly backlit the artist seems to emerge from the shadows while performing gestures borrowed from Kali the Hindu Goddess of Destruction, commanding a confrontation with the viewers gaze. In Spielraum of Imagination Patricia Almer addresses mythology and symbolism in storytelling while drawing comparisons between the work of Katy Hundertmark and fairy tale. Hundertmark's images locate the place where memories and inherited trauma are held in our bodies, while stepping across land that has been inhabited by the artists family for centuries. Our book review by Anastasija Kiake takes a closer look at Molatham made by Scott Caruth during his time as an activist in Occupied Palestine. Lastly, Louise McLachlan captures resistance in a hospital room with muted colors and a soft focus on her activated limbs. In Mōtae she turns the chasm between health and illness into a stage for movement and recovery.
We would like to thank all contributors, subscription holders and stockists for your ongoing support and hope you feel stimulated by our selection of works.
The editors